Ja, auch ich besitze ein Paar dieser hübsch-häßlichen Crocs, die man diesen Sommer überall sehen (und mit viel Glück, da nahezu ausverkauft, auch kaufen) konnte. Die Farbe heißt Celery und ist ein schönes Blassgrün, das ich besonders gerne trage.
Nachdem ich Martha endlich fertig habe (das Foto kommt noch, liebe Sab!), habe ich jetzt mein letztes Projekt aus Baumwolle für dieses Jahr begonnen: Jenny aus dem Rowan Heft Nr. 37 (genau wie Martha übrigens - dieses Heft ist wirklich sehr ergiebig). Und was hat das jetzt mit ollen grünen Plastiklatschen zu tun? Ganz einfach: sowohl Cardigan als auch Schuhe haben ein luftiges Lochmuster und passen farblich perfekt zusammen. Witzigerweise hat Rowan der Farbe auch den Namen Celery gegeben - was für ein Zufall!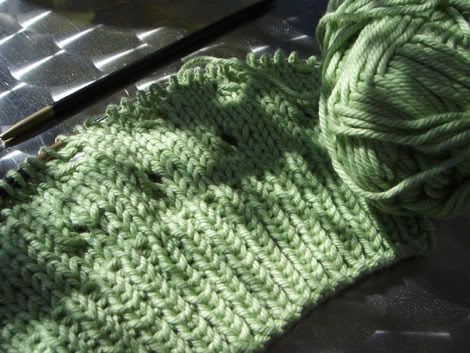 And because i got my invitation to ravelry last saturday and there may be some non-german speaking readers (btw: welcome!), i will try to give you a short summary in english (i hope you can understand my funny english):
After i finally finished the Martha cardigan (phew! this took me much longer than i expected...), i started the last cotton-project for this year. The color i chose for Jenny (from Rowan Magazine No. 37) goes perfectly with my Crocs Mary Janes. Even the name of the Color is the same: celery...